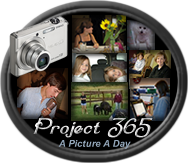 I have been a MUCH better blogger this week ... let's see if we can keep it up.

(and as I finished typing that last sentence, I realized that I STILL have not posted the Easter pictures yet ... So, while I have been a BETTER blogger, alas, I have not really been a great blogger ... but I have goals, y'all!)

This was Hattie's spring break. I was excited because last week was simply beautiful.

Then, this week arrived.

And it got cold.

Bummer...

So we chose to hang close to home and just relax. And, here is how it went down...


March 5 - Hat Head - The girls got new outfits in their Easter baskets, including new hats. And Sophie REFUSES to wear hers facing forward. It goes on backward or not at all.


March 6 - What's Up Doc? - The girls have really taken an interest in the doctor kit lately. Not sure why, but I love to watch them. They take turns giving each other check ups. The best part is when they pull the stethoscope out and tell the other one to "breathe deep" ... love it!


March 7 - This is what the floor looks like for the majority of their waking hours ... I clean it up, they pull everything right back out. I pretty much have given up. But they know that when bedtime comes, every last toy goes right back in the toy box.


March 8 - Wiggle - Hattie has her first loose tooth. Any day now we will have a big toothless grin as our picture of the day.


March 9 - Cracked up - I have NO idea how she did it, but Sophie managed to crack this cup right down the middle.

Skillz, I tell ya ... the girl has skillz!


March 10 - Mama Kim - We had a lunch date with Sophie's birth mom. We are so thankful for her sacrifice and her choice to Bless us with our sweet girl.

And, still no toothless picture. I have NO idea how she made it through dinner with that thing in tact. It is barely hangin in there!

So ... how was YOUR week?