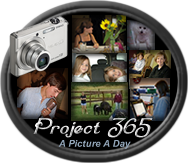 OK, you may wanna pull up a chair, get comfy and maybe even pack a lunch for this one. I have been a VERY bad blogger lately and have not even posted the 365 in three weeks. No excuses, just plain busy ... and lazy.

Whew ... confession is good for the soul. I feel much better now.

With that said ... here we go!



March 14 - Jewelry - although not the kind I usually like. After a trip to the urgent care/emergency room and four prescriptions later, I came home and crashed for the day.


March 15 - Heaven - For this girl Heaven will have a toothbrush for every hour of the day. It is her favorite activity!


March 16 - Helper - I was still havin' a hard time bending over (stupid ear infections!) so Sophie took it upon herself to help with the laundry. She pulled the basket from the bathroom all the way through the house to the gate that leads down into the laundry room. She then, piece by piece, threw every last speck of laundry down into the room for me!

You KNOW ya wish you had one of these!


March 17 - Bed Head - this is what it looks like!


March 18 - Hangin' out - Literally, she was hanging out of the climber in the backyard.


March 19 - Heaven - In mama's opinion, Heaven on earth is warm sun, a cool breeze, a good book and some Jesus. THIS was a good day!


March 20 - My Man - We were Blessed with the opportunity to attend a marriage conference.

I REALLY do love my man!


March 21 - Minnie - This is Sophie's BFF. She cannot sleep without her!


March 22 - Pants On The Ground - She's lookin' pretty cute with her pants on the ground!


March 23 - Rain, Rain, Go Away - That would be a touch of blue sky in that puddle's reflection! And I LOVE it!


March 24 - Blanket Fort - This is one of the girls' favorite activities!


March 25 - Bag Ladies - The girls LOVE to put things into bags and carry them around. I give them purses but they would MUCH rather have an old paper bag.

I LOVE my little bag ladies!


March 26 - Fly Baby - Sophie is, in general, a very unadventurous girl. But she LOVES to play airplane!

(PS - Shout out to SuperModel who took similar pics of her kiddos and gave me the idea!!)


March 27 - Sharp Dressed Girl - THIS is what you get when you tell a 2 1/2 year old to go get something to wear.

It IS interesting, is it not?


March 28 - Uhhhh ... Yeah - So, ummm, I DO still have Christmas cards up ... please, don't judge me!


March 29 - FUN!!! - They also love to bounce on the bed!!!


March 30 - Could It Be? - Spring is really on it's way!

Which, in this part of the country, usually means we have one more big snow to come!!!


March 31 - Mile Stone - I passed a BIG one this day. Whew! That felt good!


April 1 - I Got Nothin' - She just wanted to wear her daddy's hat ... backwards ... and over her face ...


April 2 - Hangin' Around - She also likes to hang upside down.

I have NO idea why.


April 3 - Adventure Girl - Hattie, unlike Sophie - does like a little adventure. At the Easter carnival at church Hattie climbed a rock wall.

Yeah, she did.

And she loved it.

(And, yes Grandma, she IS wearing a harness!)


April 4 - Eli - These precious baby feet belong to young Mr. Eli.

And I am already in love with him!


April 5 - Easter - these shots are just previews of the Easter pics ...


... Hopefully you will come back for more!

So how was YOUR week?

Or, I guess I should ask how was you MONTH?!