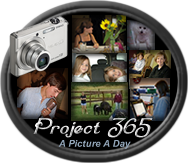 OK, We are already one month into this new year ... that is CRAZY!

Just the other day I was looking back at the 365's from last year and sat AMAZED at how much my girls have changed in the last year. It brought tears to my eyes to think about all that we have been through as a family. And, to think, I have it all in pictures!

LOVE that!


January 24 - I sat on the floor in Hattie's room to just get some candid shots. I turned the flash off and just started clicking. I love the colors in this one.


January 25 - Sophie prepared a little carpet picnic for me. She knows her mama well - french fries!


January 26 - Fun with Daddy!!! This one ...


... and this one were taken during bedtime story time. These girls sure do love their daddy!


January 27 - Sophie wanted to play, but I don't think the cat was really in the mood ...


January 28 - I have been drinking a TON of water. I think any of the weight I've lost has all come out in the bathroom, if ya know what I mean!


January 29 - We had some extra kiddies, so we turned the lights down and had a pajama movie night. I am STILL cleaning popcorn up! But they had a BLAST!!!


January 30 - Hattie and I did our homework together. I am so very proud of how far she has come!!

Thank you Sara for hosting! And, if you wanna play, it's never too late to join!

Tell me, how was YOUR week?