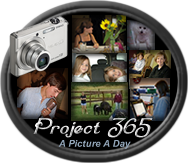 Week 4 ... of 2010 ... pretty sure we were supposed to be livin' like the Jetsons by now.

Which would have it's ups and downs. I mean, really, who wants to have to check their hair and makeup just to answer the phone? But, on the other hand, I could REALLY use me a Rosie the Robot!

Anyhoo - I want to thank sweet Sara for hosting this shin dig. She is GREAT! You should totally go check her out ... and join us! It's never too late!


January 18 - C is For Cookie - This is what ya get when you leave two little girls alone with a bag of 'Nilla Wafers just long enough to move some laundry around.


January 19 - Loves Letters - Even on a play date, this girl will find the letters to play with.


January 20 - Little Chickadee - Hattie likes baths ... Hattie does NOT like getting OUT of the bath.


January 21 - Baby Love - Sophie has discovered all things baby doll. And she is HOOKED!


January 22 - Blue Eyed Girl - Do I need to say more?


January 23 - Drama Queen - Sophie likes books as much as she likes letters. Here she is reading to herself ... and obviously QUITE engrossed in the story!

So, tell me ... how was YOUR week?