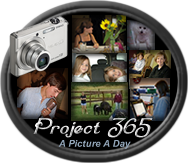 OK, I am gonna try this again ... and this time I am bound and determined to make it through the year. It is time for a fresh start and what better time than new year's?!

I have two pics for January 1 ...


Hattie lost her tooth. It was the third tooth to come out, but the first time that she was excited to have the tooth fairy come. Here is her tooth in the bag (gotta love Jewel Kade jewelry, love the necklace and the bag comes in handy too!!) just before it went beneath the pillow!

(in case you're wondering, the tooth fairy filled her bag with quarters! I asked her if she wanted to go to the store or put them in the piggy bank she got for Christmas and she chose the piggy bank and even shared a few of her coins with her sister!!)


My first memory verse of 2011! Two years ago my pBFF Beth Moore led a scripture memorization team on her blog. I started off to big (trying to do Psalm 150 ... ALL of Psalm 150 ... for my first verse) and I got overwhelmed and never finished the year. I HATE that, so I am determined to not let that happen again! This year she is presenting the challenge again - even creating these cute little spiral books for us! So twice a month (the 1st and 15th) we choose a verse and work on embedding it onto our hearts.


You're all I want in heaven!
You're all I want on earth!
When my skin
sags and my bones get brittle,
God is ROCK-FIRM and FAITHFUL
Psalm 73:25-26 (message)

I am excited for this year to begin. I really feel like God is stirring some new and exciting things in my life this year and I cannot wait! It is only Jan. 2 and between my devotional this morning, an AMAZING sermon and POWERFUL worship this morning and a challenging book I'm reading (Radical, by David Platt - I will share more on this later), God is already kickin my tail ... and I am LOVING IT!
Thank you
Sarah
for hosting this again this year! You are awesome ... I promise to do better this time around. We have no plans to move this year, so I may actually get through it!