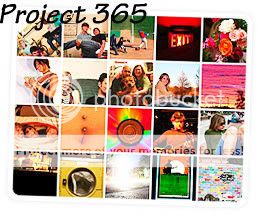 Once again, Sara is hosting the Project 365 fun, and I have been having so much fun visiting all of the other participants - it is AMAZING how much you can learn about a person with a once a day snapshot into their lives!!! If you visit Sara you can find links to a whole bunch of other blogs offering this weekly insight into their worlds!
In the meantime, HERE is a glimpse into ours:
Jan. 26 - Now, isn't the snow just so stinkin' pretty when in is new fallen and sparkling in the warm sun? Yeah ...
Well, don't let it fool ya, cause in just a few short minutes (23 to be exact) it can go from this lovely shot to this ...

... Seriously, will it EVER stop? I mean, c'mon!!!
By the way, Mr. Al Gore, if you would like to come explain that "global warming" thing to me, that would be groovy. 'Cause, I gotta tell ya, I just aint gettin' it!
And, maybe you can shovel my walks while your here!!
Jan. 27 - Yeah, I finally caught the bug that has been spending some quality time amongst my family.
Jan. 28 - Sweet Miss Sophie Lee! I took this pic for a very specific purpose, if ya scroll down to the next post you will see why. However, if you are visiting from Sara's sight, you only get this post, so I will give you a clue. This is Sophie, and THIS ...
... is Sophie's Daddy - the man of my dreams - many moons ago. See how they look so much alike? Yeah, she IS her daddy's girl!
Hey, did I happen to mention that we adopted our little angel?
Yeah, God is just that BIG!!!
Jan. 29 - You will have to excuse the quality of this pic, it was taken on my cell phone. But this was the day I had been waiting for! Our new Bible Study - Esther; It's Tough Being A Woman - started. The lady on the screen is the author. You may know her, she is my PBFF (Pretend Best Friend Forever), a little lady by the name of Beth Moore!
Yeah, she kinda ROCKS!!!!
Jan. 30 - Sweet Belle came to play today! So did Caleb and Cassie, but I forgot the camera while they were here! Let's just say there was a bit more "energy" when they were here!!!
Jan. 31 - Hubby has re-caught the dreaded bug. I tried real hard to keep the girls quiet so he could sleep in, but to no avail. THIS is a picture of my peace offering.
Noting says "please forgive me, Baby" like some good 'ol comfort breakfast food!
And, yeah, he forgave. He is just a little awesome that way!
So, that was our week ... how was yours?