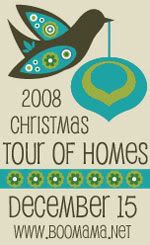 OK, so we here at B Manor are joining the festivities over at
BooMama's
place! So welcome to our humble home ...
Let's start in the yard, shall we.
Here is the yard nativity that my handsome husband found for me - he built the stable himself!
And what Christly birthplace would be complete without a star to light the way?
As we approach the house, you will notice the lovely garland my Hubbs put into place just last night (yes, we do love to procrastinate!!).
And our Christmas wreath waiting to welcome you at the front door.
(and, BooMama, this pic is photo evidence of why you should choose ME to win the new camera ... after this very poor quality photo was taken, and before I could get a better one, the old camera up and died!)
But, let's not forget my hopeful hint to the weatherman!!! I love me a white Christmas!
(Ask me again in April - Easter, I prefer a little GREEN!!!)
Here is Mr. Snowman to welcome you inside - notice he carries a reminder that YOU are fearfully and wonderfully made!!!)

And, HERE is the real reason for the season. Yes, we do love a little Santa around here, but you will find our home filled with reminders of what this season is TRULY all about!
JESUS!!!
An Angel sits at the top of our Christmas tree.
She is there to remind us to Take Time to Hear The Angels Sing - my Great Grandma's favorite saying!!
Well, Sophie lives here, so there is a fence around our tree.
Inside the fence you will find a few nutcracker soldiers keeping watch.
And on the tree, you will find a vast array of ornaments.
Homemade ones - like this first one that Hattie ever made!

Antique ones, like these that hung on my Grandma Straight's tree my entire life.
>
And fun ones, like Mr and Mrs Clause - from our first year as Mr and Mrs B!!!
And, of course, we have a C
hoo
-C
hoo
Train making it's way around the bottom!
And, here is Hattie's very own Nativity - than you
Duhlstine
family!!
And, of course, our stockings.
These are precious to me - my Mommy made each of them by hand. Steve's is a mountain climbing
snow boot
(because the first time my parents met him, he was bringing me the tree that he had
gone
up into the mountains to chop down for me!) Hattie's is a very close replica to my original stocking that had to be replaced a few years ago. Sophie's is an
UGG
style boot - because they are comfy
and
wonderful and ever so cute on tiny feet! And mine is a ballet slipper - because that is what I wore for my wedding! (Now, to be honest, for my reception I rocked a pair of purple converse high tops - which my mommy refused to make me because they were not "stocking worthy"!!!)
And, on our mantle, you will find one of two Christmas Villages. Our first Christmas, we bought my mommy this village and I loved it so much that after Christmas,
Hubbs
stalked every single Target in town until he had collected every piece for me! Good thing too, cause that was the only year that Target carried these babies!
And, this is the Santa that always sat by my Grandmas tree.
Now he sits by mine!
(I just got a little teary. Cannot believe she's been gone a year.)
And, of course, every home needs the Christmas Story LEG LAMP!!!! And, yes, it sits in our center
front
window
all lit up every night! 'Cause we are just that tacky!
Awwww
, here are two favorite Christmas items .. two little Santa Babies in the tub!!
And here is the BEAUTIFUL center piece that my sweet friend Jane won at the Ladies Christmas Banquet last week at church. And then she gave it to me!
One more reminder of the REAL reason for Christmas!
I hope that you enjoyed our home. I loved having you stop by - come any time!
And I pray that this season, and all year long, you know the One TRUE Joy of Christmas!
And, remember, take time to hear the Angels sing. It is a sweet
song
of love, redemption, forgiveness, peace and joy. A song written just for YOU!