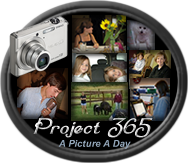 This was a MUCH better week than last week - probably because I was able to lift my head off the pillow without fear of losing my lunch... Gotta love that!

Thank you Sara, for hosting us yet again! This little project is a BLAST and I love documenting the lives of my children this way!

Here is our week...


Sunday - This girl LOVES a fort. And I love that smile!


Monday - Dancing Queen - Anytime Miss Sophie works out with me, this is the DVD that she picks. She loves the music on this one (she is so much better than I am with the dance moves)!


Tuesday - Snowcream - We had enough snow by late afternoon that I filled a bowl and we made a little snowy treat. Snow, vanilla, sugar and milk all add up to a big ol bowl of YUM!


Wednesday - Happy Birthday Grandma! - It was my mommy's birthday so the girls decided we needed to make her a cake. Did I mention that she lives in Arizona? No matter, we had a party for her anyway!


Thursday - Happy Valentine's - This was the day of Hattie's class party and she brought home all of her goodies in a bag that she decorated. I LOVE the puzzle piece letters that she used for her name.


Friday - Praise Him - I was in a serious funk. Couldn't tell you why, I just was. So, I took the advice of my PBFF Beth Moore and decided to "praise now and feel it later!". I turned on Pandora radio and this was the first song that came on. It's a little old school, but it TOTALLY did the trick. I was singing and dancing along by the end.

PS - I TOTALLY want Christy Nockles' voice when I grow up!


Saturday - Sundays are always crazy around here, especially if one of us has Praise team at church. So, we decided to do our V-day on Saturday instead. Hubs brought me these beauties, some chocolates and a lovely card. I am one Blessed woman, I truly did marry Prince Charming!

So, how was your week?