** Today is Friday.

** Hattie is on a mid-winter break from school.

** Ummm, excuse me, but where were the mid-winter breaks when I was in school?!

** May have something to do with the fact that I lived in AZ, where there are no "winters" to break from, mid or otherwise.

** This is the second time I've made this list because it somehow disappeared the first time. Which made me not so much the happy camper.

** Our yard is covered in snow. A few inches worth.

** I may or not get brave enough to take the girls out in it later today.

** My girls LOVE to be outside, but HATE to come back in.

** They strategically run in opposite directions when it's time to come in.

** We live on a fairly busy street with an unfenced yard.

** The play stuff is in the back yard but the only (usable) entrances to the house are on the FRONT of the house.

** Can ya see why I have to get "brave" before taking them out on my own?

** Sophie talks alot. I mean a LOT, alot. Like non-stop.

** It really makes me wonder how I missed the fact that Hattie really didn't talk at that age.

** Today, however, Hattie is a MOTOR MOUTH! Not really sure WHY, but good golly, girlfriend is talkin the ears off!

** Wednesday was my mommy's birthday. The girls and I baked a cake and had a little party for her.

** Did I mention that my mommy lives in Arizona, so said birthday party had to be done by phone.

** I have yet to even take a taste of the birthday cake. (feel free to cheer because that, my friends, is a HUGE victory for me!!!)

** I was a bit bummed to learn that the Re-think Your Shrink challenge at the Sisterhood of The Shrinking Jeans ended this week.

** But never fear, a new challenge is under way!!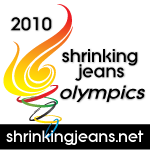 ** Oh yeah, Olympics baby! And you can play along too! Head on over to the
'Hood
to find out how!!
** I signed up for a stairs challenge on the 21st.
** I have a total of four stairs in my house, which does not constitute a "flight" of stairs.
** I may need to borrow some stairs on that day. Anyone have any stairs that they are not using?
** Somewhere in this house is a hidden stash of energy drinks that only the girls know about.
** Today, I do believe, they have each had triple shots of said drinks.
** Seriously, they are so wired that the Hubs and I just looked at each other shaking our heads this morning ... and then he bolted.
** Thus, the coffee maker is in overdrive today.
** A mama has to keep up, ya know?