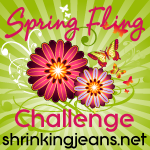 It's Wednesday, which means it's weigh in day. Honestly, I was more than a little nervous getting up there today. I stayed steady last week (which I did not post because Blogger was all wonkity!) and let it bum me out. Friday and Saturday were emotional days - nothing big, just emotional - and I kinda fell off the wagon. But Sunday I pulled it together and jumped back on. I was just nervous that the damage done in the days before were gonna wreak havoc. So, I was, ya know, nervous.
But, the scale was kind ... I hit 14 POUNDS!!!!!!!!!!!!!!!!!!!!!!!!!!!!! Whoo Hoo!
I am soooo excited. This workout and healthy eating combo seems to be effective ... WHO KNEW?!
Also, you may remember that I was going to participate in the Shrinking Jeans Olympics. Well, I wasn't able to do as many events as I had hoped, BUT ...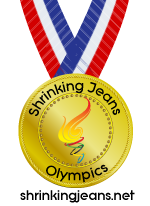 I DID win a STINKIN GOLD MEDAL!!!!!!!!!! I did a 3 min., 21 sec. plank hold (go into push up position and hold it) and it was the longest hold. I was in shock, trust me! So stinkin shocked!
Finally, today starts a new challenge for the Shrinking Jeans - why don't ya pop on over and check it out. There is nothing better than getting healthy ... and doing it with support and accountability - wow! Gotta love THAT!