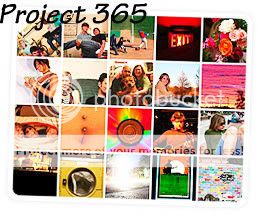 Time again for a look back at our week. The lovely Sara hosts this extravaganza each week, in which we take and showcase at least one picture a day for an entire year. And it is a STINKIN BLAST!!!! It's not too late to join us. Visit Sara or click on the pic above for more details!

April 19 - Sophie is FINALLY letting me play with her hair. The accessories don't always stay in for long, but it is a start!

April 20 - Sophie's 18 month check up (though she is closer to 20 months now!).
April 21 - There's no room here for an office space, so I created a little
counter top
organization center (and yes, I do realize I AM becoming my mother!).
April 22 - Adventures in Spaghetti - scroll down for the whole tale!
April 23 - sick in bed with a migraine. How Blessed am I to have friends who made sure the girls and I got home safely from Bible study and a husband who came home (amidst MORE layoffs this week - we are still safe) to take care of his ailing wife?!?!
April 24 - He had to go back to work, but he left this note to let me know he loves me!
April 25 - the piano finally made it over from the old house! And, yes, that is a framed puzzle above it. In my early 20's I shared and apartment with a
roommate
- we could barely afford rent, much less cable, so we spent a LOT of time playing cards and doing puzzles. Something about this one made me fall in love and I glued it together and kept it. I always dreamed of owning a piano like the one in the picture as well as
havin
a little
blond
girl and a curly headed brunette baby! When we got the piano (a GIFT from a friend)
hubbs
had the puzzle framed and hung it above the piano. Fast forward five years and I even have the
blond
and curly topped babies! God is SO good!!!