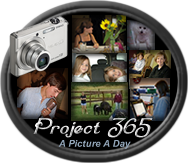 Yeah ... I have some catching up to do. So I'm just gonna jump on in here!!!
Thank you
Sara
for hosting!!!! You ROCK!
Monday - Sisters!


Tuesday - Daniel - We are doing the Beth Moore's study at church and it is rocking.my.world!


Wednesday - I was all ready for bed when I remembered to take a pic.

(SOMEONE needs a pedicure!!!)


Thursday - Migraine - Hubby gave me an AMAZING back massage with this little thing. I love that man!


Friday - LOTS of laundry! And, this is where I notice that the last few pictures have been taken with my comforter as the backdrop.

Note to self: take the camera OUT of the bedroom!


Saturday - The groundhog lied!!!

And, so did Al Gore.


Sunday - Bed time stories. I LOVE this time of day. (especially when Hubby adds his voices and commentary!)


Monday - Our Memory Verses!! Even my girls are learning some verses. I LOVE that!

Tuesday ... I got nothin. Oops.


Wednesday - Birthday Prep time! Little did we know ...


Thursday - ... she would wake up sick. Poor thing.


Friday - This was all she did all day long. Breaks my heart.


Saturday - Poor Ken. He must have had a rough day ... he needed a LOT of caffeine!


Sunday - PARTY!!! She felt good enough to celebrate ... so, we did!


Monday - 30 Day Shred ... ouch.


Tuesday - She let me braid her hair ... it was SOOOOO cute.

And, just in case you were wondering ...

... she's got her pants on backwards.

I have no words.


Wednesday - But I remembered to take a picture!!!


Thursday - She is an artist!


Friday - I heard her awake up there, but she never came down. So, I snuck up the stairs and found this. I LOVE that she is developing a love for books.


Saturday - started off warm-ish and rainy. Then it turned to snow.

Dear Spring, We are WAITING!!!!!!!!!!!!

So ... how was YOUR week?