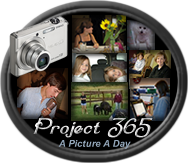 Can I just say, one more time, how very happy I am that Sara is hosting this project again. Not only do I like taking the pictures, I LOVE the way it chronicles a year in the life of my family - especially my children. Since I am a wanna be scrapbooker at best, this is the closest thing I have to that for them.

Who knows, maybe someday I'll finish my wedding album and can start on books for them. Till then, thank Heavens for this blog!!!

OK, here we go...

Sunday: Snow Bunnies! Happy ...


... and sad! (Soph does NOT like having her nose wiped!!!)



Monday: My friends in the South were out of school for 2 to 3 days for a 1/2inch of snow. Here in the frozen North, we got over 3 inches, it was still falling and we had school! Go figure!



Tuesday: Princess Sophie! I LOVE how you can see her face through the sleeve.



Wednesday: Faith ... 'Nuff said.



Thursday: Hattie sportin a new do ... and strikin a SASSY pose!



Friday: Joy ... this is what it looks like!



Saturday: Splish Splash! Sophie's takin a bath!



Sunday: An apple a day! I found this on the counter - after following a trail of chewed up apple peels. I guess Sophie was hungry!



Feel free to join us - this is a GREAT project! Just jump on over to Sara's place for details!

And, tell me ... how was YOUR week?