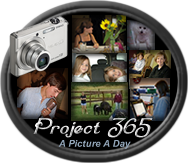 I am just gonna tell you right here and right now ... I am OBSESSED with my new camera. Some of you asked me last week about it. It is a Nikon D40 and was a gift from my sons and daughter-in-love for Christmas. These boys came to me as a Blessing from my marriage, so technically, I am just their stepmom. I usually get a gift card from them or whatever I had put on my list, so this gift BLEW.ME.AWAY. Honestly, the fact that it came from THEM means even more than the camera itself.

But I surely do love my camera!!!!

OK, on to week two...


January 3 - Hattie is learning about letters and numbers in school. And, what Hattie does, Sophie does, so this is her favorite thing in the world lately. She can recognize every letter now and just about tell you what sound they each make. I am one proud mama!!!



January 4 - I had been slacking on my time with God and decided it was time to fix that. Hubbs went to the store and picked out a pretty new prayer journal and I pulled out some old devotionals. I also made a new (well, old, but too often ignored) rule that I can not turn on the computer until I have had my quiet time. And I do not know HOW I did life before this. Good stuff!!!



January 5 - OK, this kid is just flat out CUTE. That is all!

(I totally cheated on this one. I was in bed with a migraine all day Tuesday, so this was actually NOT taken on this day. But, she was still CUTE on this day!!)


January 6 - Playin with settings, I just went around the house and started clicking. This is our wedding candle. The 3 small candles were our traditional unity candles and then we lit the large 3 wick together to signify our unity with God - a chord of 3 strands is not easily broken.
January 7 - A proud moment for this mama ... Sophie's first Oreo. And the mystery is solved, she is a licker. She opened em up, licked (or picked) the cream off and then ate the cookie part. Just like her mama!