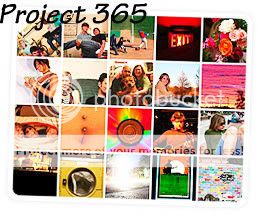 Well, honestly, I had trouble remembering to take pics this week... so I have to say I cheated a bit. I will let ya know when it is a cheater pic.

Stop by to see Sara for looks into even more people's lives!

Here is our week:

Feb. 9 - This is a cheater ... this pic was actually taken on the 7th! But, it does show how rapidly the snow was melting when we got some unseasonably warm temps. This poor snowman was COVERED on Friday, it had gone down this far by Saturday and by Monday ... well, Monday I just took him down because, Hello IT IS FEBRUARY!!!!
PS - Happy Birthday Emily & Heatheroni!!

FEB. 10 - Not only is this the day that the best mom in the entire UNIVERSE celebrated her birthday (love ya mommy :) ), but it also happens to be the day that Sophie learned to blow a raspberry, courtesy of her daddy ... who says that I am a bad influence!
Feb. 11 - I emptied a box of cereal, Hattie found herself a new hat! Can't say she's not creative!

Feb. 12 - The girls like to mix and match their sets of toys. Some days there are some strange combos to be found through out our house. Like this day ... Not sure what was goin on, but it looks like there was some trouble down on the farm!
Feb. 13 - CHEATER ALERT!!! This pic was actually taken on Saturday. However, on Thursday, since Daddy was at church late, we did get out the special V-day shirts that I found on serious clearance at Babies R us (with a gift card none the less!!!) to be sure that they would fit!
Feb. 13 - Hattie's therapist switched us from Thursdays to Fridays ... which is when the other doctors - who share the waiting room - end their days early. So Sophie gets the play stuff all to herself!!!
Feb. 14 - Valentine's Day. Hubbs took all 3 of his girls on a date. Mexican food is the sure fire way to this girl's heart!! But, I think Hattie enjoyed it too!!!
Feb. 16 - Oh goodie ... NASCAR's back. I. am. so .excited ... NOT!!!!

Nothin' says good TV like a bunch a cars turning left for four hours!!!
So, how was YOUR week?
PS - I totally apologize if I offended anyone with the NASCAR comment ... it is a running joke here in our house!

No, really, I LOVE left turns!