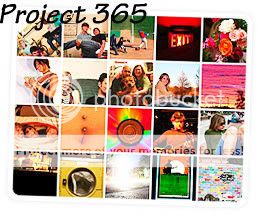 Welcome back to Project 365! Have I mentioned that I am LOVING this?!?! Well, I am - sooo much! And I think it is gonna be great to look back at our year this way. In fact, I have been thinking that it would be fun to make a book of the pics in order, with the stories of each, for the girls to have when they get older - one for each of them. And I may even keep doing it for years to come ... Yeah, ask me again in July, right?

Well, here is our week:


Jan. 12 - We are looking for a new place to live (long story and one that I have been trying to write for a few weeks now ... it is coming, I promise!). This is the house we fell in love with on Monday ... at least I did! It is a 1920's farm house with quite a few updates, but still all of the old charm. THIS is a shot of the front entry hall - toille fabric on the wall ... this is the room that sealed the deal for me! We are just waiting to see if we get it!
Jan. 13 - this is what my house looked like at the end of this day ... and truthfully, I was so happy for the day to be done, that I just left it this way ... Shhhh, don't tell my mom!
Jan. 14 - Double Blessings: I needed a pick me up, it had been an emotional day. Within 15 minutes time, I found a bag of popcorn in the pantry and a post, by my PBFF Beth Moore, on her blog that was soooooo encouraging and uplifting! I LOVE that girl!
Jan. 15 - It was COLD y'all ... I had hoped for a snow day, but no such luck. I tried to get ya a picture of my little eskimo getting on the bus. However, it was SO COLD that my camera would not work outside. I had to run in and get the shot from the window as the bus was driving away. Didn't even have time to open the shades!!!
Jan. 16 - NO SCHOOL!!! And, of course, that means, PAJAMA DAY!!!! And, this is what happens when you put a certain fave movie of mine in the DVD player (Mamma Mia!!!) - little girls, and a big girl too, all start to DANCE!!!
Honey! Honey!!!
Jan. 17 - Hubbs surprised me with some Chinese food! He certainly knows the way to this girl's heart!!!
Jan. 18 - One of the moments that I live for - snuggle time on the couch with my man! Soph was napping and Hattie was playing happily by herself, so Hubby and I got a few moments in. Sadly, he caught Sophie's bug, so kissing was out, just snuggling!
Ah well, gotta take what I can get, ya know?!?!?!
So, how was YOUR week?!